Jiniai is a traveler's bandana board game. By using coins, bottle caps, small stones, or whatever is handy, all you need to carry is the Jiniai bandana and you've got a way to entertain yourself and a friend for hours. And, if you haven't got a friend with you, Jiniai gives you a new way to make one!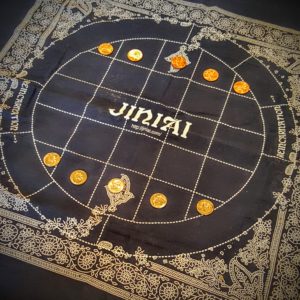 Michael Schenkel and Lindsey Massar invented the game Jiniai, pronounced GEE-knee-eye, in April 2016.  The name is the latin plural of genius, because they were feeling pretty smart when they invented it.  Michael came up with an alternative game name origin mythology, "Attack, Defy, Stall" in Chinese (击 ji1 逆 ni4 挨 ai4), but really … it's purely a silly name for a fun game.
Michael is based in Buffalo, New York, USA, and is promoting Jiniai in order to have fun, meet new people, and get experience promoting and producing a game.